So my wife and I and one of our classmates leave for our mission trip to Zambia, Africa in a little over a week. When we e-mailed the surgeon at the Mwami Adventist Hospital in Chiapata, Zambia, asking him for any needs that the hospital had, he responded that they needed some basic supplies and more importantly a foot control for their scrub sink. We honestly had no idea how we were going to get any of the supplies, because we were broke. But we prayed and the Lord truly provided. The classmate who is going with us went to the basement of the Loma Linda Medical Center, randomly looking for the maintenance department. She told them what we were looking for, and it turned out that they were more than happy to donate one of the foot controls for free! So the following is control that we are bringing to the hospital:
When Dr. Ang (the Filipino surgeon at the hospital in Zambia) saw the pictures he responded back:
"Wow, this is really real good news! Those pictures are great much more so with the water spout and the foot control parts- for FREE! I'm so excited. The Donor for sure will receive the vote of thanks from Mwami Hospital Administration for his/her big heart. You guys have done a BIG thing for Mwami already, even before you have arrived here. Oh yes, for the copper connections please bring them also; we can't find anything like that here. Indeed, this is the type that we had wanted from the ages past, I don't know! For sure, we can do the surgical hand washing technique properly this time huh! "
There is something about doing something for someone else that really feeds the soul. In a world that is focused mainly on personal gain, it is refreshing to experience heartfelt gratitude and know that all the praise really goes to God. We are still buying parts to make sure that the foot control works. Dr. Ang sent us a picture of their current scrub sink: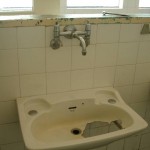 Needless to say, they are going to buy a new sink in preparation for our arrival. The more and more that I get involved with overseas missions to more I realize how much we have here in the States. We go through surgical gloves, sterile dressings, and scalpels like its nothing, while many 3rd world hospitals have to sterilize and reuse just about everything.
The blessings didn't stop with the foot control. A local plastic surgeon just retired and closed his practice. He decided to donate the medical supplies in his office to Loma Linda's Student Mission Group. These supplies have been just sitting in their office. Yesterday, when I was giving them a copy of our flight itinerary, I saw these supplies and scooped up a lot of it. So on top of the foot control we are bringing:
1. Surgical trays and bowls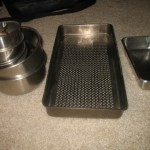 ____________________________________________________________________
2. Surgical scissors, retractors, and clamps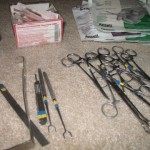 3. A butt load of sutures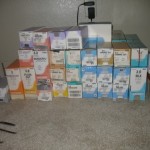 _________________________________________________________________
4. Lots of bandages, band aids, and Steri-strips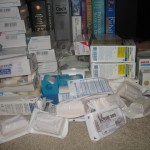 5. Size 6 1/2 and size 7 surgical gloves, and surgical caps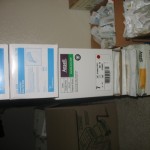 _____________________________________________________
6. Lots of syringes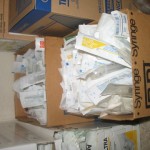 I just can't wait to finally go to the mission field in the medical arena. I've experienced principally evangelistic mission work in Africa, and I'm excited to see how we can combined medicine with ministry.